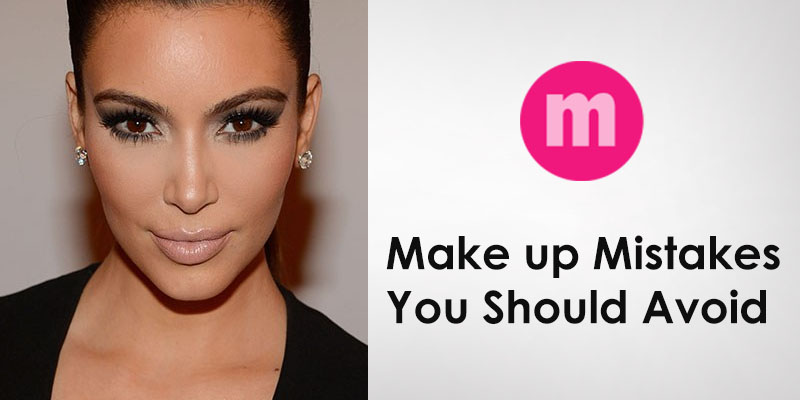 Every girl is beautiful, inside and out. But, a little enhancement should never be turned down. A little make up can totally change you, provided it is done in the right way. Here are 5 make up mistakes you should totally avoid:
1. Don't start without a base
Starting makeup on bare skin makes you look artificial and reduces its lasting. Begin with cleansing, toning and moisturizing your face. Don't ever avoid this. Let the moisturizer absorb. Applying moisturizer on slightly damp face seals in the moisture. Then apply primer all over your face, paying special attention to the areas around your eyes. This makes your face makeup ready.
2. Cakey, unmatched foundation
Foundation is the most essential part of makeup. Choose a shade that matches your complexion, for daily wear and one shade lighter than your skin tone, for parties and special occasions. The main idea is to keep blending. Blend till it looks a part of you. It should NEVER look cakey as it takes away all the beauty. Seal it with some pressed powder.
3. Chipped/Asymmetrical eyeliner
Eyes are the most charming and appealing feature of the face. Lively, bright eyes steal hearts. Just one flick of eyeliner can instantly brighten up your eyes. Always take care not to double coat your eyeliner as it will begin to chip or become uneven. Use one single, slow stroke. If you extend it beyond your eyes, the extension must be identical on both sides else your eyes will end up looking asymmetrical.
4. Clumpy Eyelashes
Mascara works wonders in terms of opening up your eyes and adding zing to it. But clumpy or rather spider lashes is the worst mistake you can make. Open your eyes, looking upwards, apply mascara in a rotating but zig-zag motion to evenly coat each eyelash and separate them properly. Do the same in downward direction for your lower lash line. You can apply one more coat if you want but it is better not to mess with it. You can use an eyelash curler prior to the application of mascara.
5. Smudged lipstick
Lipsticks are meant to enhance the shape and color of your lips. NEVER let it smudge no matter what. Apply moisturizer and then a little foundation on your lips to make it stay smudge proof. Outline it perfectly with the color closest to the shade you are about to apply and use a brush to fill in the color. Top it with a layer of clear gloss or lip balm. To create an illusion of fuller 'pouty' lips underline your lips with a brown pencil, creating a shadow.
6. Don't apply blush like a clown
Do not use a large amount of blush. Apply just a hint of it to add color to your cheeks. Use natural shades like coral, peach or soft pink. Pout well and apply blush from your temple to the mid of your cheeks, blending it downwards.
7. Unblended Contouring
Face contouring gives amazing results for shaping up the nose and sculpting the cheeks, if and only if, it is blended well enough. Unblended contouring results in a face that looks like many different patches put together. For contouring use three shades of foundation, one your skin tone's for the base, a lighter one for highlighting and one darker shade for contouring. Or you can use a highlighter and bronzer. Blend well and top with base shade compact to even it out.
Follow these simple steps and your makeup will never go wrong. The right kind of makeup ensures a flawless you.!