Notion has been my obsession since 2020. I abandoned Evernote and moved everything to this magical all-in-one productivity app. It brings order to the chaos of my life – from chore lists to grocery planning, budgeting to home projects. I'm hooked!
Let me tell you about my latest Notion creation – the Milk Tracker.
As a major milk drinker, I was tired of losing track of how much I spent on milk each month. So I whipped up a customized Notion template to log my purchases and calculate expenses. Genius right?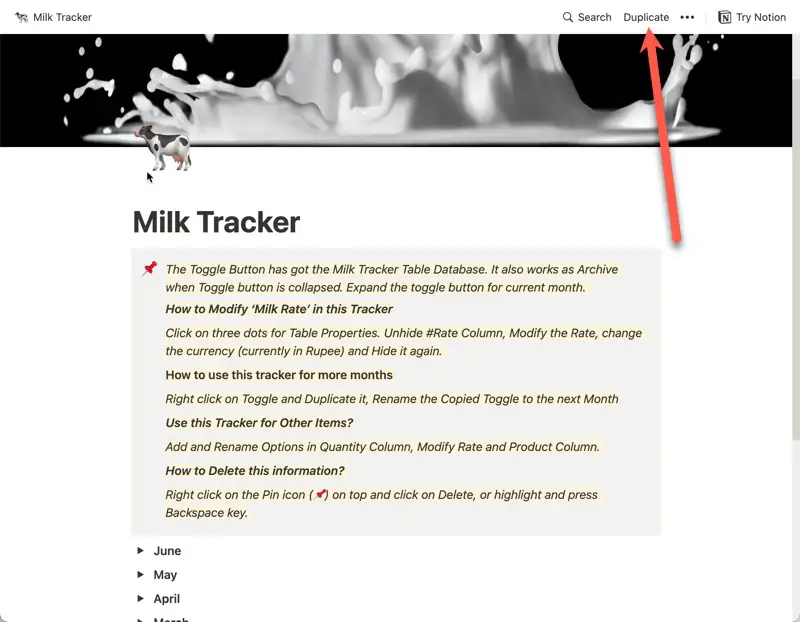 Now, I just enter the date and milk quantity, and my template does the rest. It tallies the liters, multiplies by the cost per liter, and voila – total amount spent on milk! No more fumbling for receipts or scratching my head trying to recall last month's milk budget.
The best part? I can tweak this template for anything – bread, eggs, you name it. Notion's flexibility allows me to customize it to my heart's content.
Watch the Video
Download the Milk Tracker Template
Want this game-changing template for yourself? Just click below to start tracking your milk purchases with ease. Your inner organizational nerd will thank you.
Let Notion bring order to your chaos so you can focus on the finer things in life – like drinking more milk!
What the Heck is Notion?
Notion is like a super cool notebook on your computer or phone that can do a bunch of amazing things! It helps you get organized and keeps all your important stuff in one place.
Let's say you want to make a list of chores to do. With Notion, you can create a checklist that you can check off when you finish each chore. No more losing scraps of paper with your lists!
What Else Can You Do with it?
Notion also lets you make calendars to keep track of your schedule. You can add your piano lessons, soccer practice, and playdates – Notion will even remind you when they're coming up!
If you need to plan your homework, Notion is perfect for that too. You can make pages for each subject, add your assignments, and check them off when they're done. Notion makes homework time so much easier.
The best part is you can access Notion on your phone, computer, tablet – wherever you are! So your important stuff is always with you.
Notion keeps everything organized in one spot so you don't have to waste time searching through piles of paper. And with Notion, you'll always know exactly what needs to be done. It's like having a personal assistant in your phone!
So in short, Notion is an awesome digital notebook that helps keep your life clutter-free and super organized. It's perfect for busy kids who want an easy way to stay on top of their schedules and tasks.
Try it out and see how Notion can help you stay organized too!