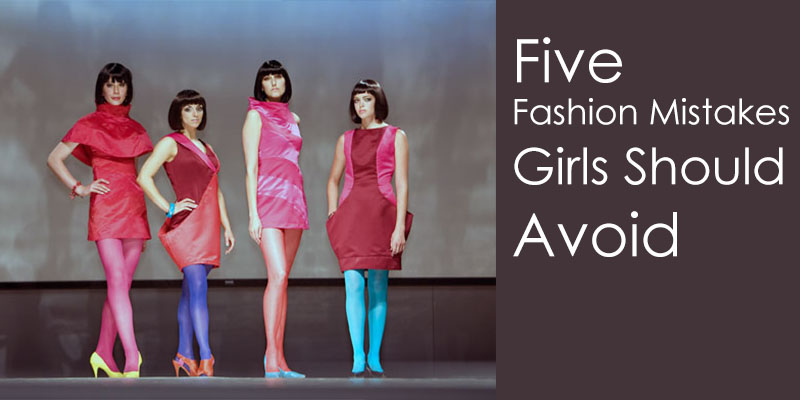 Every time you get ready, you spend a lot of time deciding what to wear, how to accessorize, the kind of makeup you should do, how to wear your hair and every other little detail. One final glance and you step out hoping that you get a load full of compliments. But often in want of admiration, you make serious mistakes. Here are 5 fashion mistakes you can avoid:
Wearing clothes that do not suit your body type
Every girl, irrespective of her weight and built can look great, if she knows how to hide her drawbacks and accentuate her assets. Avoid horizontal stripes if you are broad. Wear clothes with layering at your problem areas. Go for sleeveless and halters if you have toned arms. To shift focus, flaunt your legs!
Over the top accessories
NEVER wear a lot of accessories. Carry just one statement piece keeping the rest simple. Go for a trendy neckpiece or a combo of eye catching earrings and chunky bracelet or multiple bangles. Don't overdo the look by wearing all accessories at once. The key is to keep only one point of emphasis.
Never wear mismatched colors
The biggest mistake is to put on colors that do not go together or go monochrome from head to toe. Neons over neons are a big NO. Choose the balance color of your kurti for the leggings instead of the most/least appearing color. Prefer black jeans for blue tops and vice versa. Add colors to monochrome outfits in terms of accessories and footwear.
Peeping Innerwear
The biggest turnoff is the innerwear peeping from under your clothes. Choose innerwear according to your outfit. Halter for halters and bandeau for tubes and spaghetti straps. Clear straps work wonders. The best option nowadays is to opt for a clear stick on bra as it can go with every outfit. Adjust the waistband of your underwear with that of your bottoms. Go for semi thongs when wearing low-rise.
Don't leave out any aspect
Don't concentrate only on your dress or makeup or accessories. Balance and synchronize every aspect of your ensemble – hairstyle, makeup, accessories, dress and footwear. Everything together creates a great look while a single hitch spoils it all. But remember to emphasize only on one aspect.
Always dress up in accordance with the occasion, place and surrounding. Never compromise with your comfort as it creates a lack of confidence. And don't ever forget to put up your most charming smile.!